Motorcycle & Scooter Security
PROUDLY MADE IN THE UK & Insurance approved
Protect Your Motorcycle or Scooter
"IT TAKES ON AVERAGE 20 SECONDS TO STEAL A MOTORCYCLE"
– National Crime Intelligence Service (NCIS)
Whether you have an expensive off-the-shelf sports bike, or a precious customised classic, Datatool can bring peace of mind for any rider.
Despite the increase in popularity of motorcycles as a method of transportation, most bikes and ATV's, irrespective of price are not fitted with additional security measures as standard. Furthermore, motorbikes are often stolen when they're bought new. It takes on average 20 seconds to steal a motorcycle.
Don't become another statistic, protect your Motorcycle today.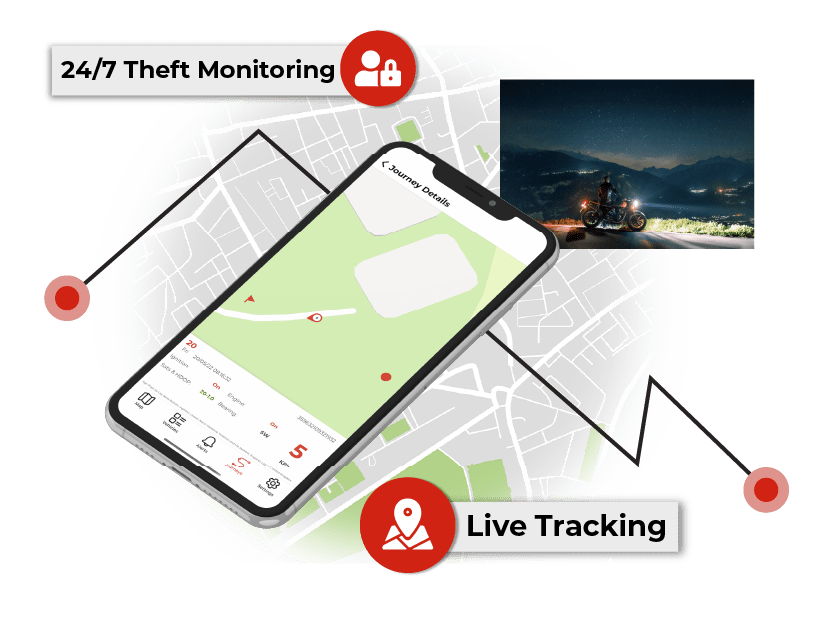 What Is Thatcham Approved?
Thatcham devices are alarms, immobilisers and other vehicle security devices that are assessed by Thatcham Research. They give these devices a Thatcham Security Certification after an assessment of their features and functions.
The Thatcham certification provides reassurance around the functionality, design and performance of aftermarket security devices.
REDUCING THE COST OF INSURANCE
One of the main reasons people get a Thatcham approved device is to lower the cost of their insurance.
The higher the level of security your vehicle has, the harder it will be to steal. This means that your car will be safer, and your premiums cheaper.
A factory-fitted Thatcham-approved device from alarm, immobiliser or tracker makes your car more secure and this is reflected in cheaper insurance premiums.
Want to learn more?
Visit the Thatcham Certified website to learn more about Thatcham approval
24/7 Monitored Trackers*
Datatool Stealth can prevent all known methods of motorcycle theft. They include: Automatic Driver Recognition (ADR) tags provide immediate theft detection. 24/7/365 monitoring by Datatool and a 96% recovery rate in case of theft. Free fittings for many of our devices at your location by our expert engineers.
*24/7 Monitoring included with active subscription
Datatool Stealth Tracker
£
359
---
DATATOOL STEALTH S5 actively protects your vehicle against unauthorised movement.
● 24/7 Theft Monitoring
If your vehicle is stolen we will work with the police to recover your vehicle 24 hours a day, 7 days a week.
● Real Time Updates
See your bike in real time in the Datatool App.
● Tow Away Alerts
If your vehicle is towed or moved with the ignition then our tracker will alert you and our control room so we can alert you and the police as soon as possible.
● Zero Speed Mode
We won't record speed data unless the vehicle is stolen
● Key Cloning Protection
Our S5 system comes with a driver tag that protects against key theft and cloning. If the engine is started and the driver tag is not present then it will alert our monitoring team so we can confirm the theft and start the recovery of the vehicle.
Monthly Subscription
£12.49

Most Popular

1 Year Subscription

£119
2 Year Subscription
£219
3 Year Subscription
£309
4 Year Subscription
£389

Best Value

5 Year Subscription

£459
Datatool subscription
When purchasing a Datatool Stealth Tracker,  a subscription is needed to enable the 24/7 monitoring service. Simply select your desired subscription on the Datatool Stealth page when you purchase the tracker and a member of our team will set you up on an account. 
Updating your subscription preferences is easy once your account is activated and can be managed through our desktop or mobile app. 
Explore our range of Security
Available for iOS and Android
GPS LOCATION
The Datatool app allows you to see your vehicle's live location as well as view a record of all the journeys the vehicle has taken.
ACCURATE LOCATION
The Datatool Stealth S5 tracker uses advanced GPS, Galileo, and GLONASS satellite technology to determine your vehicle's location.
BATTERY STATUS
The Datatool mobile apps offer a convenient way to monitor the battery of the tracker. If the battery is low, it will notify you in advance.
ZERO SPEED AND PRIVACY MODE
The Datatool app allows you to hide your live speed and current location for ultimate privacy. Scorpion & Datatool will only turn these features off in the event of a theft.
24/7/365 Monitoring
Datatool operates a 24/7 secure operating centre that will monitor your vehicle for possible theft, In the event of a theft, they will liaise with the local police to recover your vehicle.
In Built Immobilisation
The Datatool Stealth has inbuild immobilisation available for ATV's adding a further layer of protection to your vehicle. If the Datatool ADR tag isn't present, the vehicle won't start.