ATV & Side by Side Security
Protecting your vehicles since 1985
24/7 Stolen Vehicle Monitoring
Insurance approved
Affordable Tracking
PROUDly MADE IN THE UK & Insurance approved
IS ATV AND UTV SECURITY IMPORTANT?
All-Terrain Vehicles (ATV) and Utility Terrain Vehicle (UTVs) have proved popular during the last 10 years on farms and smallholdings due to their multipurpose uses – but this has also seen them become a target for thieves.
When it comes to security, you don't need an armored vault to keep it secure. ATV security can be achieved with little just a little effort. There's a range of security devices available to keep your ATV safe. These include alarms, Immobilisers and an ATV Tracker.
Unfortunately, too many ATV owners either don't worry about ATV security, thinking they don't need it, or they avoid taking security measures because they think they will be too costly or time-consuming. In reality, an ATV is more likely to get stolen than a car because it is a crime that is a lot easier to get away with since a stolen ATV can be hidden and/or disguised much easier than a stolen car.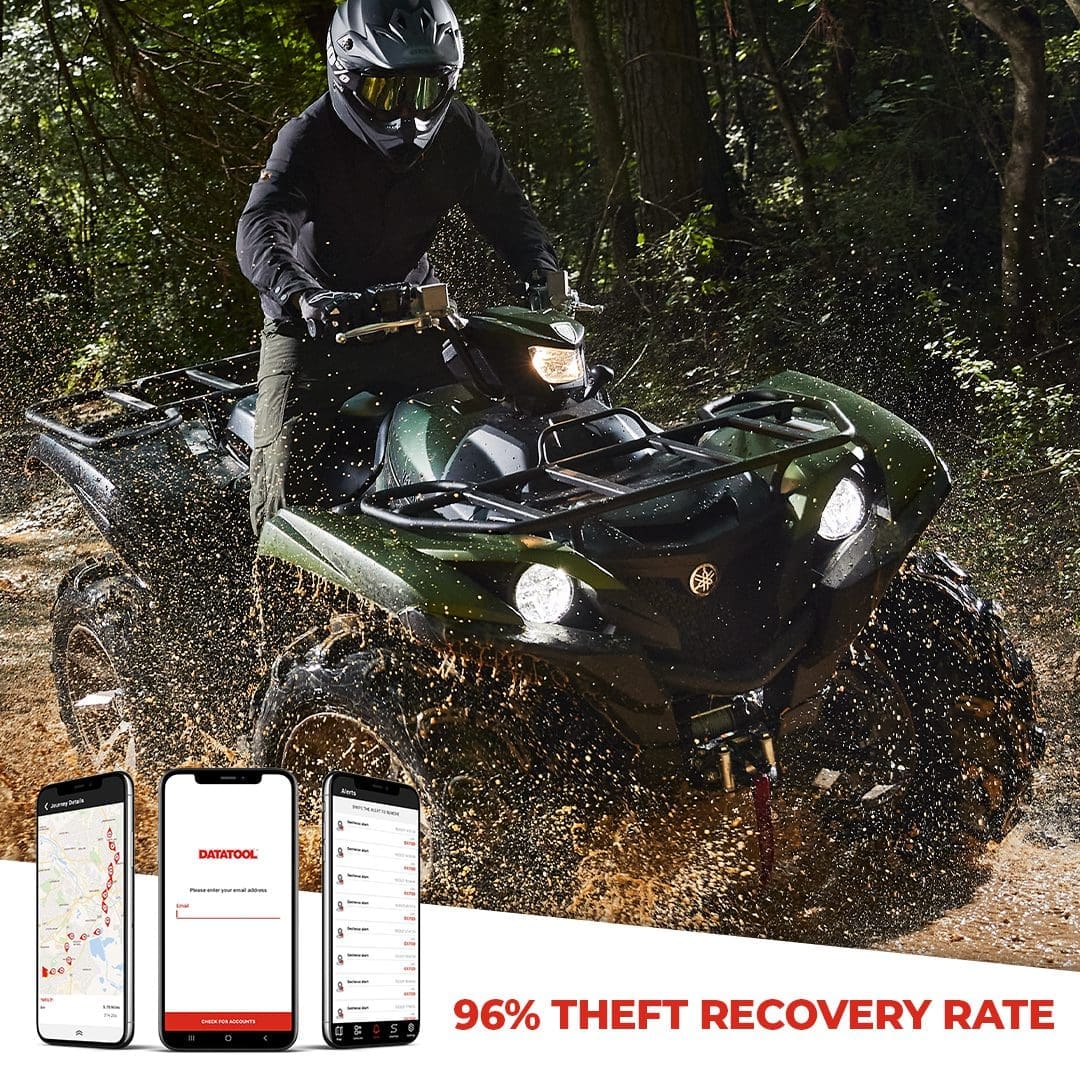 What Is Thatcham Approved?
Thatcham devices are alarms, immobilisers and other vehicle security devices that are assessed by Thatcham Research. They give these devices a Thatcham Security Certification after an assessment of their features and functions.
The Thatcham certification provides reassurance around the functionality, design and performance of aftermarket security devices.
REDUCING THE COST OF INSURANCE
One of the main reasons people get a Thatcham approved device is to lower the cost of their insurance.
The higher the level of security your vehicle has, the harder it will be to steal. This means that your car will be safer, and your premiums cheaper.
A factory-fitted Thatcham-approved device from alarm, immobiliser or tracker makes your car more secure and this is reflected in cheaper insurance premiums.
Want to learn more?
Visit the Thatcham Certified website to learn more about Thatcham approval
NFU MUTUAL INSURANCE APPROVED
24/7 Monitored Trackers*
Datatool Stealth can prevent all known methods of motorcycle theft. They include: Automatic Driver Recognition (ADR) tags provide immediate theft detection. 24/7/365 monitoring by Datatool and a 96% recovery rate in case of theft. Free fittings for many of our devices at your location by our expert engineers.
*24/7 Monitoring included with active subscription
Datatool subscription
When purchasing a Datatool Stealth Tracker,  a subscription is needed to enable the 24/7 monitoring service. Simply select your desired subscription on the Datatool Stealth page when you purchase the tracker and a member of our team will set you up on an account. 
Updating your subscription preferences is easy once your account is activated and can be managed through our desktop or mobile app. 
Explore our range of Security
In 2021, the NFU Mutual Rural Crime report highlighted the following theft stats.
Yearly Cost of Agricultural Vehicle Theft